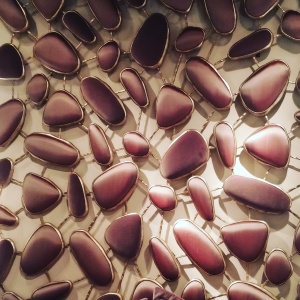 I'm back from the Las Vegas Home Show, totally inspired and ready to incorporate some really wonderful new merchandise into the store. I found myself longing for a larger showroom to showcase all the beauty!
As you may know, Saffron and Genevieve has reached a 10-year milestone. This special anniversary has given me the opportunity to contemplate and reevaluate my business moving forward. My original dream was to have a beautiful and inspiring shop that I could be proud of, and I am so pleased that Saffron and Genevieve has become just that.
While in Vegas I had time for some deep reflection.
For years I've been torn between the needs of the shop and the needs of my clients. I always knew they both deserve full attention and focus.  I'm happy to announce that I have found an additional person with the same spirit that can assist me with clients on a variety of projects. Many of you already know Elsbeth Mumm, who has worked with me for 4 years. She will help me keep projects on track and make myself more available to my customers in the shop. 
In the following months, the shop will be transitioning to accommodate the new goods and my new vision. It will still have the same great feeling, but updated. You'll be able to clearly see what's available, including a larger selection of items like sofas, tables, lighting, rugs, etc. that you can order through the shop. My awesome team is already learning the new product, and will able to answer your questions.
To start the transition process, I'm excited to announce a BIG clearance sale to make room starting Wednesday, Feb 3rd! 
Thank you for letting me share my thought process with you these past months. Your feedback has been so helpful and confirms that I am on the right path.