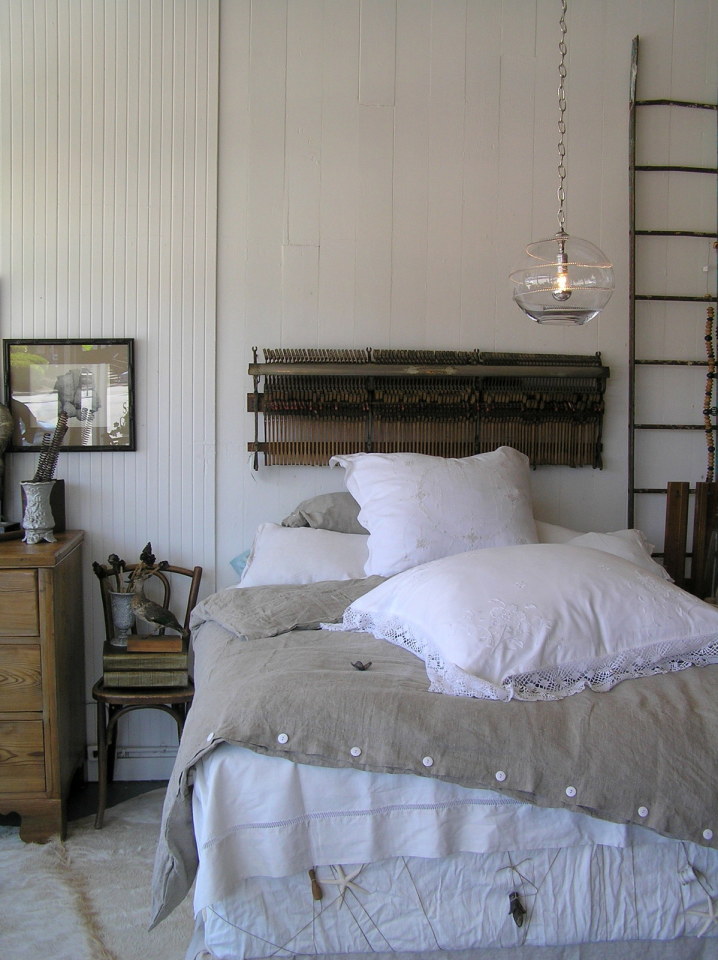 Hello Friends,
I first want to thank you if you were one of the MANY who came out for my last day in the shop and helped me clear it out, I had a blast and I think you did too! There was very little left at the end, Santa Cruz MAH took the final bits and bobs for an exhibit opening in September. Keep an eye out for that coolness.
And now, WOW.  I didn't think I would miss the store when it was gone and – sorry but I really don't! Looking back, it's been quite a few years since shopping and selling and keeping things fresh and exciting became mostly work and less fun. Today I came across this picture from 2010. I happily wrapped the heavy mattress with linen and  twine, set up the bed, tied all sorts of treasures to it to get this look and spent hours making the whole front window pretty. That was heaven for me. 14 hour days were the norm and I actually inspired myself with my ideas. It was a magical time.
When I first opened my shop I did not see other shops like mine.  My style of antique dealers were few and far between. As years went by the scene changed, from the big antique fair in Texas to the little one at Alameda Point. Everything got bigger and more mainstream. You couldn't turn on a television without seeing someone picking or upcycling or vignetting (I just made that up!) using old books. I watched in horror as big companies reproduced and mass produced what seemed like every special treasure I had ever come across. I grew to hate (that is a strong word, I know) Edison bulbs. I absolutely LOVE that more people are doing what they love and finding their passion, and I think the antique landscape is helping that, but my passion has changed. Whether it's from overexposure or weariness from trying to keep up and keep my own thing going, I fell out of love – with my own style.
Let me be clear – I love the spaces I have made for you and you have made for yourself with goods bought at Saffron and Genevieve. I love all of the images I have taken of my vignettes. I love the antiques and vintage in my own home. I love the friends I have made in the Texas fields. I just need to be away from that industry for a while. I need to start again like I started in 2005, doing my own thing.
Years ago when I decided I needed some good branding for my business, I was forced to decide on some words that described my style. I couldn't even describe what exactly my shop and design business provided, let alone my style. I am very happy to say, with all that has changed in me since then, that TIMELESS * FOUND * ORGANIC still applies.
I believe timeless and classic design is always a winner. A few interesting found objects in a room make it special. Natural fibers, colors, and textures are still my trademark, and I take my time so a space can come together naturally and organically.
So happy you're still on this journey with me,
Scarlett
PS, if this is a little uncomfortable for you to read, thank this Woman. She opened her shop a few years before me and was definitely an inspiration, both in opening and closing Saffron and Genevieve. I appreciate her open and forthrightness. I hope by telling my truth that I can give inspiration as well.
PPS I've decided to start from scratch and make a whole new website for my design business and my shop. It's not an easy or inexpensive task, but it will simplify my life and that is so worth it!