Hi Friends, 
I hope as this year begins to wind down that you are happy and healthy. We've had a crazy time, and very sad times, not only in the US but globally, but I really do still think that good can come of the bad. I have to 🙂
I am grateful this year to have had the time to make my business work on my terms, so I can have a better work/life balance than I used to. 
I am grateful for my family, and that most of them (minus 4 nephews who are all working hard) got together this year. It was a short but very sweet visit. I look forward to spending the holidays together (25 people here tomorrow, woohoo!)
I am grateful for roads trips, seeing the beauty of California and Nevada, Italy and Germany both close up and at 100+mph (safely).
I am grateful for Andy, and our cat children, they bring so much joy to my life I can't even. My heart is so full.
I am grateful for my awesome clients. I don't know how I am so lucky to get to work with the best people but oh my gosh it's amazing.
I am grateful for my friends. We don't see each other as much as we would like but I know they are there for me, as I am for them, and they continue to inspire me.
I am grateful that there are so many more good people than bad, and we can make a difference.
I am grateful for you and your ongoing support.
And so much more…
When I changed the name of my business and website, I changed a few things on it. Please take a look around if you are so inclined, and let me know if you see anything funky.
The sale goes on! Here and Here. Little by little you are snatching up the goods, thank you. Just keep shopping, I can wait.
On the homefront, the front yard re-do is about a month away! Every single thing (except for that beautiful tree) comes out, new stairs and walkways go in, then comes the plant design! I have been planning this since March, and in my usual obsessive researching way I have probably spent hundreds of hours on it. But all learning is good, I enjoy it! Pinterest page here. Here is the before pic: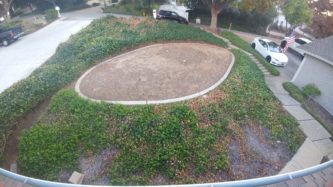 Much love, 
Scarlett