Hi Friends,
How are you? I'm still waiting somewhat impatiently for summer, but not at all ignoring this gorgeous green spring. Every time I go outside a different fragrance is perfuming the air, and I can't get enough! I am walking these hills more and more for a healthy mind and body. Breathing in the scents – greeting every kittycat, deer, flower, all of it – makes me so grateful.
Did I even tell you about our pool remodel? If you're on Instagram you may have seen snippets. This house in these hills with Andy is my most favorite place I have ever lived, and the pool (and newly added hot tub!) is a big part of that. The construction took three months last winter, was completed just before Christmas. Who knew pool remodeling was as detail intensive as any other remodeling? There were a zillion questions and problems I dealt with every day. We raised the bottom so it's not so deep and quicker to heat, added a sweet hot tub, modified the dangerous stairs, added a bench in the shallow end, new plaster, tiles and stone coping. Oh, and turf! We love love love the turf! It was a hard, failing pebbletec surface before and now it's soft and lovely and you can lie on it! What do you think?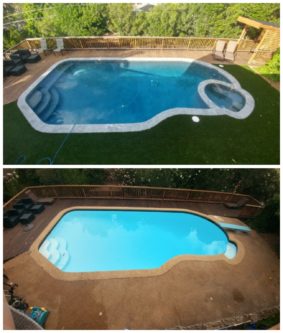 Now Andy and I are taking advantage of the nicer weather to get some more outside projects done. We just built a pergola/cabana by the pool, (right back corner, curtains to come). I am slowly stripping bad finish off the vast expanse of redwood decking upstairs. Last weekend we built a boardwalk under the old apple tree. Before, if we came down the bedroom deck stairs we'd have to walk through mud to get to the hot tub, it was messy and dangerous. I love these projects, it's great to work hard and use the construction part of the brain and build and fix things that we will enjoy daily!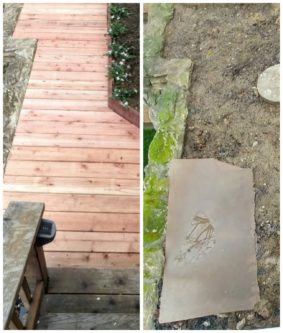 Back in the real (work) world, I am on my second iteration of SFR Paint Color Consulting business cards. I find this sort of transformation of my job title interesting. I am keeping the name Saffron and Genevieve for my website and online shop, but if you're in a paint store driving yourself crazy over which paint color to choose, my card needs to scream I CAN HELP. However, it also needs to reflect my more tasteful aesthetic when I go to your home and hand it to you. Oooh, perhaps 2 versions are in order? Talking things out is so good, thanks for listening!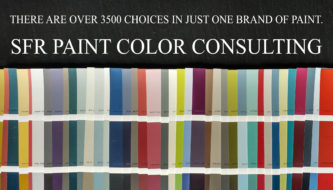 I'm wrapping up a couple of design jobs, and I am not saying no to new ones, but I must say I am really enjoying my color-only jobs. Except for playing on a soccer team in my late teens/early twenties, I have never been a team player. I do not delegate well and do not enjoy relying on others to get my job done. Interior design is dependent on a great team, and although I have sources I love, people are imperfect – delays can happen – mistakes can be made. I prefer to be accountable for myself only. Walking into a home, choosing paint colors, getting that instant appreciation and great feedback later when the paint is up is seriously gratifying.
So here's where I ask you to please review me on Yelp and or Houzz if you know of my mad color skills and I have helped you. Besides word of mouth, these are my bread and butter. Thanks 😊
Oh, I pulled out some more treasures for the blowout sale. I am adding and removing as things sell and I find more. Please email me if you have any questions, need more images, or want to buy.
Love always, 
Scarlett